Radical Innovation Sprint
We are pleased to announce that the eighth round of Radical Innovation Sprint (RIS) will take place in an expanded version in 2023 and 2024 with both Danish and Norwegian partners supporting the call.  RIS is a proven method developed by our team. The mission is to push traditional thinking and ways of working in research to unlock the full potential of both ideas and researchers. The added benefit of nurturing ideas via the RIS method is that it allows companies to stay relevant in their rapidly changing businesses. This makes the RIS method highly valuable for both researchers and companies. Join us!
Radical Innovation Sprint 2023-2024 for researchers
The eighth round of RIS is true to the proven RIS method in terms of the one-off open call, application, selection, and research duration. However, the team will be pushing the boundaries of the scope areas two-fold. If you haven't yet taken part in RIS now is the time to join!
The team has traveled the network in both Denmark and Norway with workshops informing on the call practicalities and the A-Z of the technical scope. If you didn't manage to catch us do not despair. Simply reach out to Karen or Kristine and they will help link your research to this year two folded scope.
The deadline is approaching fast: November 1, 2023 at 23.59. Submit your anonymous poster idea and budget by e-mail to offshore-RIS@dtu.dk. As always, we will be happy to meet you for a virtual or physical coffee 1:1 prior to the deadline to help bring your idea to life. Just reach out to Karen or Kristine. The research sprint takes place from February 1 to April 30, 2024.
This year's scope in late-life production, abandonment, carbon storage, and energy transition is backed by our Danish Underground Consortium (DUC) partners. DUC is a partnership between Total Energies, Blue Nord, and Nordsøfonden. Additionally, the team has expanded its service to cover a challenge of radical ideas specifically for rig-less plug and abandonment. This challenge is backed by Energy Transition Norway (ETN). ETN is a cluster organization counting many Norwegian member companies and the challenge for this year's RIS is currently backed by equinor, REPSOL via the ETN GRaPA project.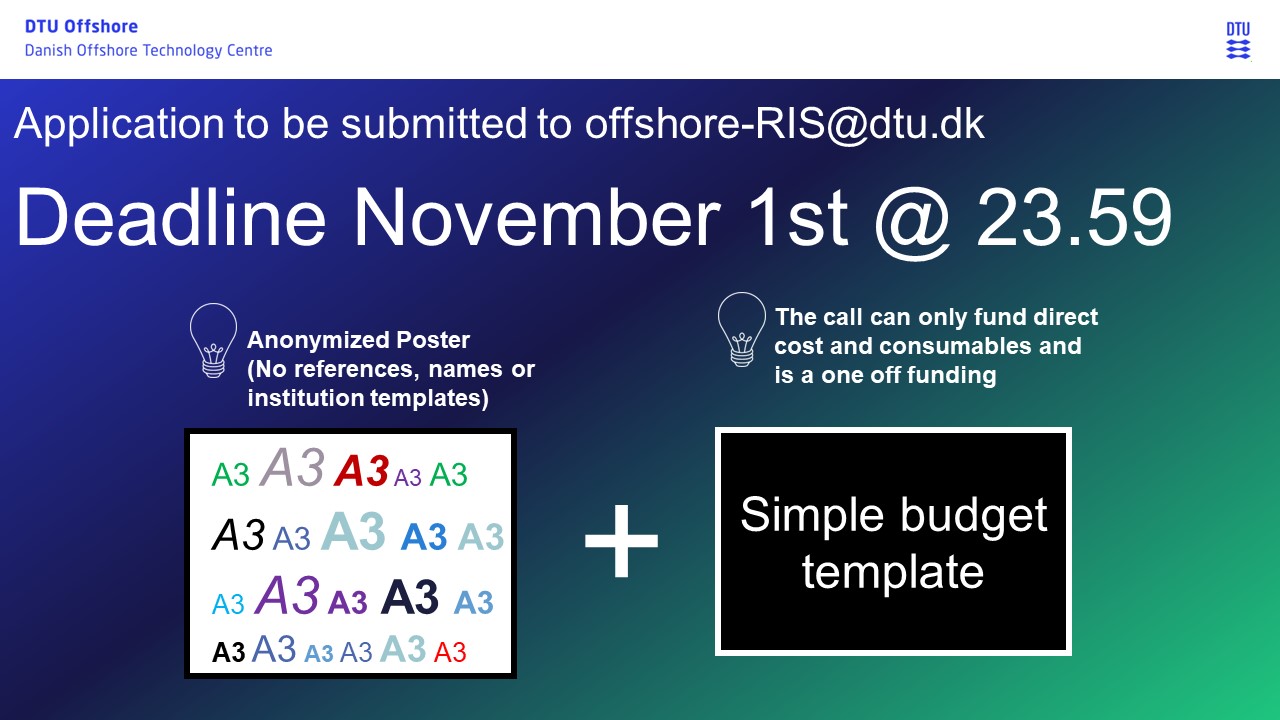 Submission deadline is November 1, 2023.
The funded research sprint takes place between February 1 to April 30, 2024.
Your idea has either potential for application in the Danish North Sea offshore energy transition, late life oil production, abandonment, or carbon storage or potential for application in rigless plug and abandonment in the Norwegian sector
Subject matter specialists can help you mature your idea prior to submission of your application.
Easy and simple submission: You submit your idea by filling in a simple budget form and a poster in A3 format.
Application submission is open from October 1 to November 1, 23:59.
The applications will be evaluated in double-blind anonymized form by a committee.
Everybody can apply!
Are you in doubt about what to choose or already have ideas and can't wait to discuss them with the team? Simply contact Karen or Kristine.
Radical Innovation Sprint 2023-2024 for companies
How do you make sure your company can act rapidly enough in the changing energy arena? For the RIS team, the answer is simple: You keep your innovation funnel but add the Radical Innovation Sprint method to the process!

The RIS method is simple, manageable, transparent, and consistent. It is a 3-month cost-effective research sprint to dig deeper into wild ideas and remove initial roadblocks. The RIS method will feed your innovation funnel with high-value tested ideas.
How do you make this happen? You reach out to Karen or Kristine and explore the possibility of collaboration. Karen and Kristine are original developers of the method and are ready to facilitate the RIS process on behalf of your organization. Your existing way of innovation will remain the same but the ideas and solutions will to a higher degree provide your company with an agile and relevant strategic portfolio. The RIS team will collaborate with key individuals in your organization and unlock great potential!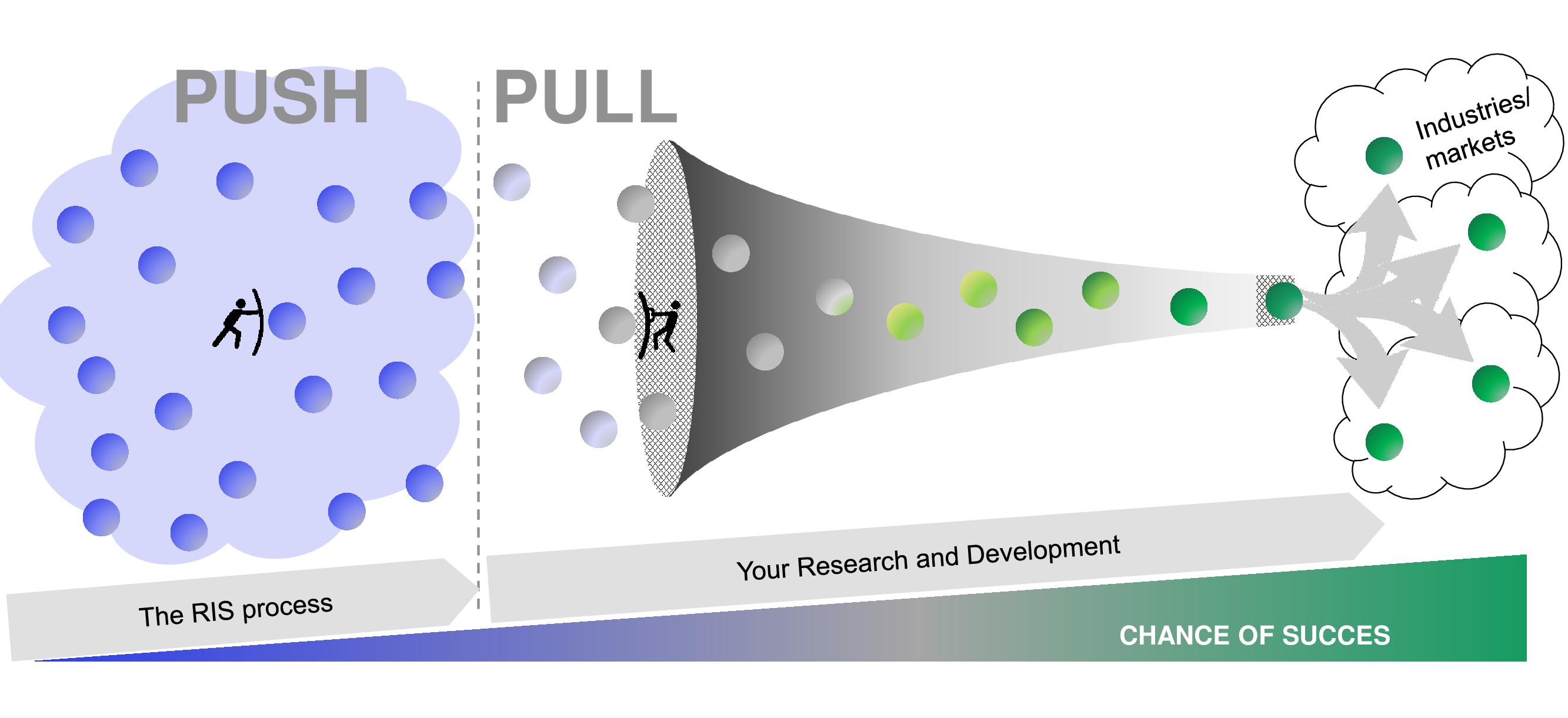 Radical Innovation Sprint projects
Each of the seven rounds is collected in an article compilation. RIS has funded more than 70 projects since 2017. Some have entered the DOTC research portfolio with a large impact. Others have led to other ideas or funding by other parties.

Should you be curious to learn more about former projects you can come across quite a few projects in scientific publications. However, we would also be happy to send you a physical copy of one or more of our compilations. Just send us an e-mail with your areas of interest and we will treat you with the most relevant editions.